Member Benefits
​LEGISLATIVE ADVOCACY
DMAA works tirelessly on behalf of the rental industry and is actively involved in the legislative process at the local, state, and national levels. ​
EDUCATION
DMAA facilitates Nationally recognized designation programs such as the CAM, CAPS, CALP, CAMT and CAS. There are also numerous educational opportunities for members.
MEMBERSHIP EVENTS
Networking meetings, conferences and trade shows, where you can learn with your colleagues, seek out new products and solutions and build your professional network are common monthly events at DMAA.
TOOLS FOR INDEPENDENT RENTAL OWNERS (IRO)

DMAA helps the independent owners better handle their management problems plus improve the efficiency and effectiveness of their operation by helping them to be better informed and educated about superior ways of managing rental properties. ​

PRODUCT & SERVICE PARTNERS
DMAA's local affiliates Business Partners (Suppliers) represents companies that specialize in doing business with apartment/rental industry, and by joining our affiliates have shown a commitment to our members and our efforts.
ONLINE MEMBERSHIP DIRECTORY
DMAA members are listed on our website, so it is a readily available resource at any time to all of our members.
When you join DMAA you are also a member of the National Apartment Association (NAA) & the Property Management Association of Michigan (PMAM)
---
Property Management Association of Michigan (PMAM)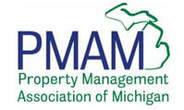 Our mission is to serve and unite the Michigan rental housing industry and NAA affiliate members through strong legislative advocacy, furthering communication, education, and leadership development, while recognizing excellence.
PMAM is a non-profit statewide trade association that provides exceptional advocacy, education and communication for the Michigan rental housing industry. We are affiliated with the National Apartment Association and local associations, providing our members an extensive local, regional and national network and allowing members to be a part of something bigger.
​For more information on the Property Management Association of Michigan visit www.pmamhq.com
National Apartment Association (NAA)
Our mission is to enable every single one of our members to fulfill his or her professional goals with great competence, speed and the highest standard of ethics. We will continue to provide the best value of any professional organization by consistently offering the greatest tangible returns.
The National Apartment Association is the leading voice for the apartment housing industry. As a trusted partner, a valued connector and a powerful advocate, we are committed to serving our 160 affiliates, over 73,000 members and the 9 million apartment units they operate globally.
​​For more information on the National Apartment Association visit www.naahq.org